PREMIUM DRINKS

En L'arrivée encontrarás una amplia selección de combinados y cocktails entre los que destacan nuestra carta de Gin Tonics, elaborados con las mejores Ginebras y Tónicas Premium.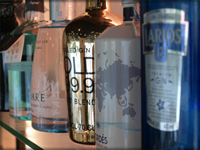 At L'arrivée you can find a wide selection of mixed-drinks and cocktails among which our Gin and Tonic list stands out, made with the best selection of Premium Gins and Premium Tonics.

Continuar leyendo.
MEMORABILIA

Entra en nuestro baúl de los recuerdos y disfruta con algunas imágenes de la historia de L'arrivée.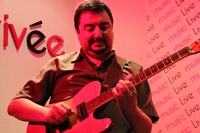 Concierto de Waldo Valenzuela.

Join us for a trip down memory lane and enjoy some pictures of the history of L'arrivée.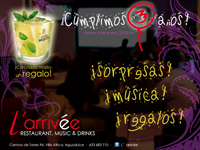 Continuar leyendo.
TAPAS

En L'arrivée intentamos darle otro sentido al concepto del tapeo tradicional. Contamos con una amplia variedad de tapas, que aún siendo su base productos tradicionales se transforman en tapas inéditas con un simple toque de creatividad y originalidad.

At L'arrivee we try giving a new meaning to traditional tapeo. We hav e a wide variety of tapas, that even though the base products are traditional they are transformed into unique tapas with a simple touch of creativity and originality.

Continuar leyendo.
REDES SOCIALES

Síguenos en Facebook y YouTube. Disfruta de los mejores momentos de L'arrivée con una completa y actualizada colección de vídeos y fotografías.
Mantente informado de nuestras actividades semanales.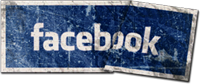 Follow us on Facebook and YouTube. Enjoy the highlights of L'arrivée with a complete and updated collection of videos and photos.
Stay informed of our weekly activities.